Configure the Plugin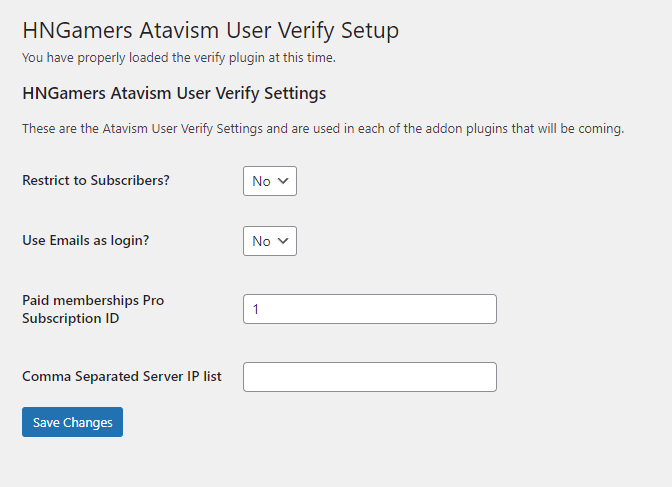 Restrict to Subscribers
If you have Paid Memberships Pro installed and activated, you can configure memberships through this process. Once you have configured your memberships, you can enter them below.
Use Emails as Logins
Do you want your users to use their username or their email addresses as their login ids? This is a one way street and requires the accounts to be wiped or to be corrected to have the email address instead.
Paid Memberships Pro Subscription Id
This is a comma separated value of your Paid Membership pro id's. You will enter each membership ID you want to be able to play the game, including the ID for your free account, if you have one. (i.e. 1,2,3,4,5)
Comma Separated Server IP list
This is an important step and must not be forgotten. You must put in the IP address that your game server will be requesting from. If you do not do this, then you will get a blank page when you are trying the verify system. Your users will not be able to log into the game server either. You can test the verify page by going to your servers url and the page slug you created in your page.  Create a Verify Page  However, you must enter your IP address your testing from as well to this list. What Is My IP  (i.e. 192.168.1.1, xxx.xxx.xxx.xxx)
This is a protection feature to prevent spammers from trying to guess a proper username and password off of your verify system. To prevent hacking, only add ip addresses that you trust to this list. This should be limited to the server address and a developer during stand up.
Example
In this example below, we show how the system should be setup. In this instance, we have a single subscriber ID that is restricting the users and they are required to use their emails to log in. The verify script will only accept requests to verify from the IP's listed, which is where the game server is running and will be requesting logins from.