Earth – Map Magic to VSP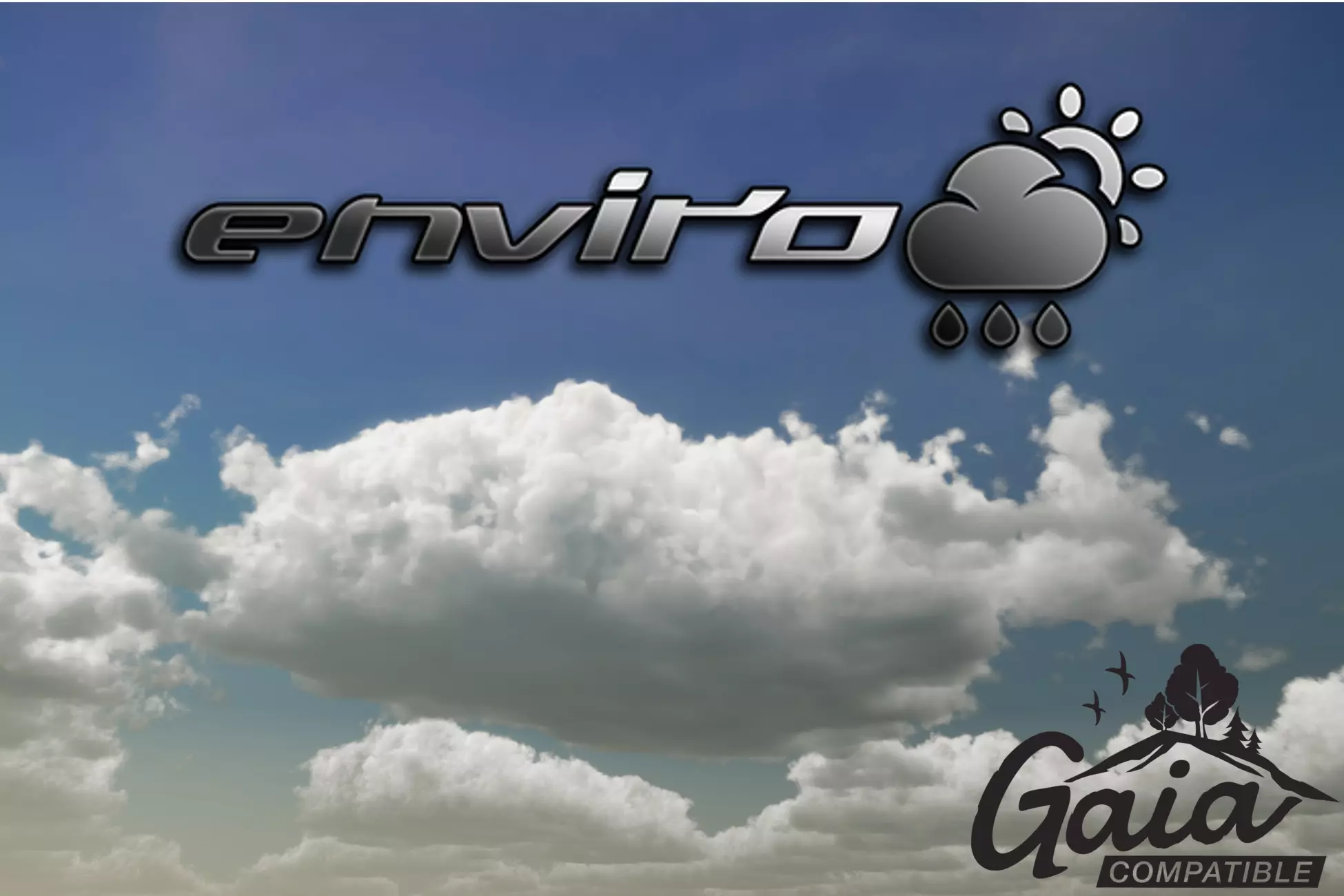 Map Magic Exports
In Map Magic, create an Map Export object for VS Pro Maps for each of the groups you created before and then use whatever method you like to connect your Texture output, to the VSP Map. Select the channels that this export should map to, in this instance it is selected on the Red channel. Make sure to click the Copy VS under Advanced. This will create a Red channel texture in the Group that was created previously. If this is the first lesson visited, check the VSP lesson out.
In this example, the System selected is the Core item setup previously in the VSP lesson the one without any terrains added and all the vegetation items and rules. The package is the Tropical package biome assigned to that system. The groups are selected from the ones created to represent the items in the scene that will be generated. In this case, grassy areas and paths that will be used for walkways. There is a blend system on the paths to get not just the path, but the path outline as well. The outline could be used to create a further blend where grass might exist but no trees, but for this purpose it has been merged.
Note: Since there are no terrains on the Core VSP as noted previously, this process will copy the VS into the Map Magic section for that terrain and assign all the values onto it. This is why it is important to set this up properly on the Core VSP.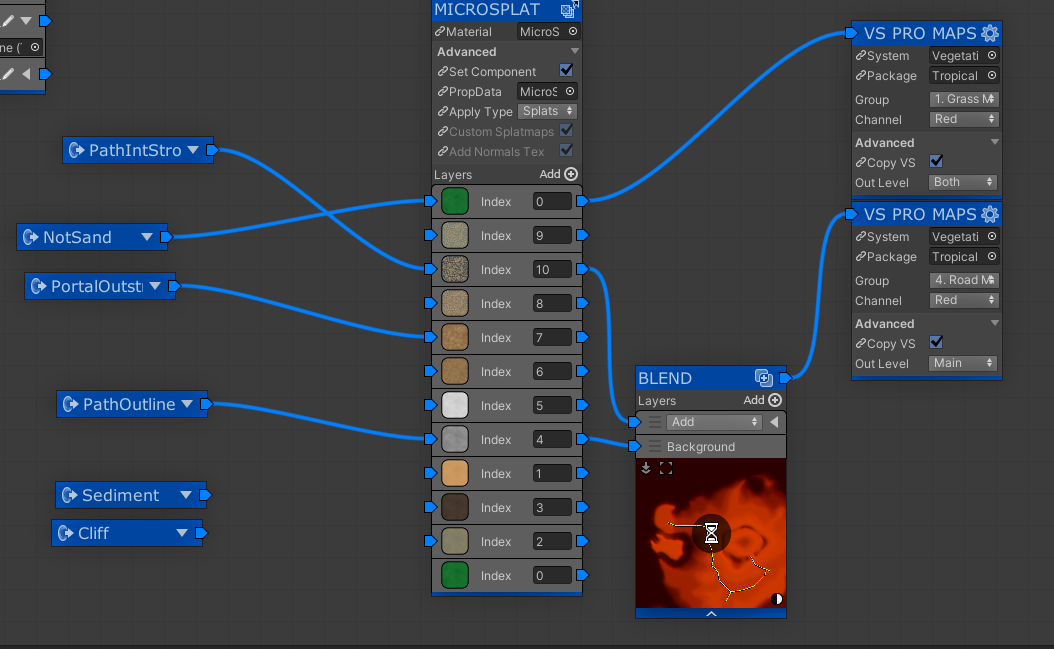 Generate the maps in the scene, this will take a moment depending on the complexity of the scene that is being generated. Once completed, there will be textures in the mask groups that were created previously.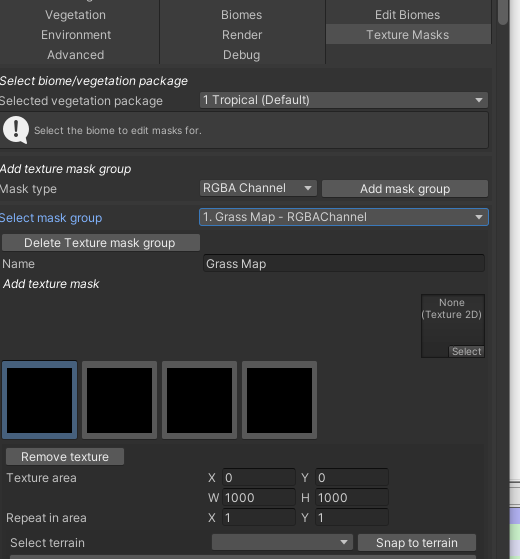 These can be applied to the rules on each of the item in the biomes.
Example Output
In this example, we are taking several textures and mapping them to various output texture maps. The grass we are adding to the green layer of the grass group, the brown color, we are adding to the plant on the blue channel and the ground and rocky textures to the road masks on the red channel.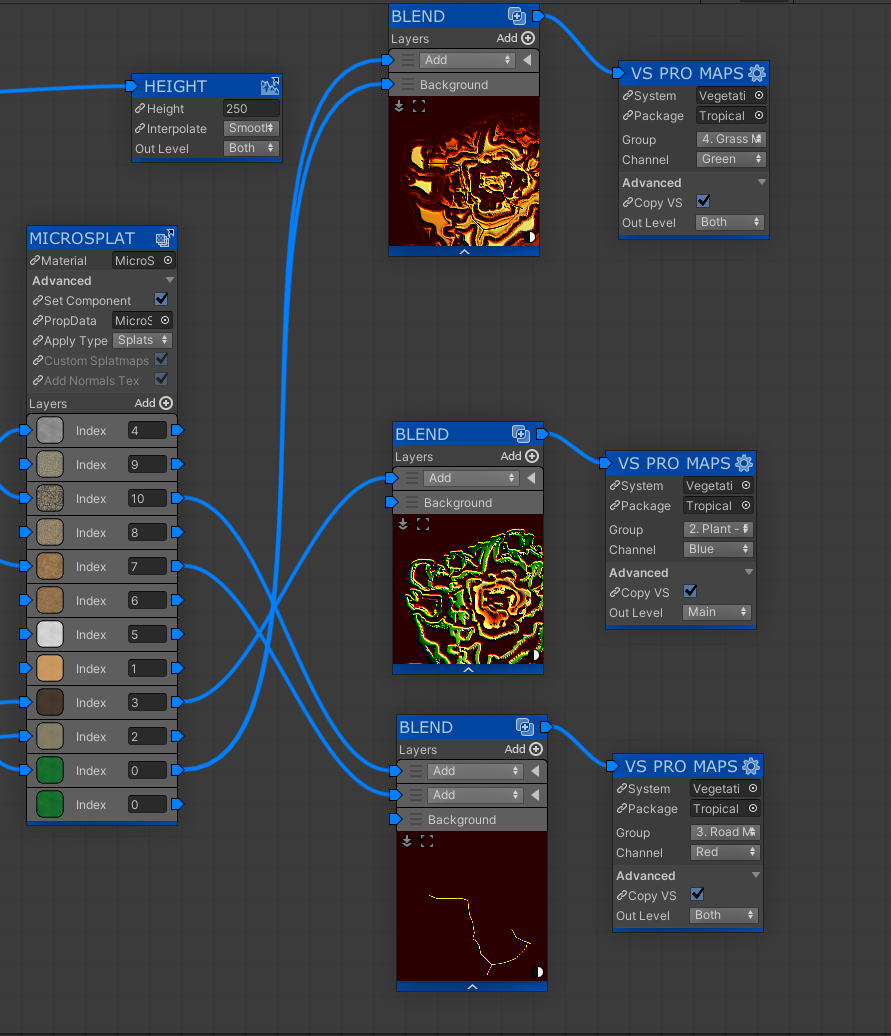 These are examples of the output that you can do with the biomes, objects and texture exclusion rules. Each of the objects in the scene have been given a inclusion and exclusion rule to add them to the grassy areas but remove them from the roads. Rocks were added into the brown areas which comprise of locations where erosion occurred.